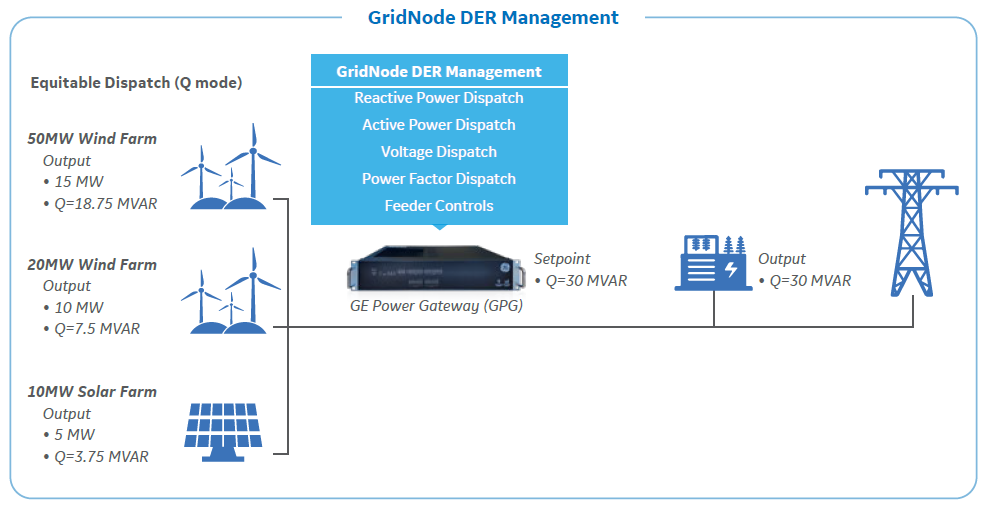 Energy trends of increasing renewable penetration and decentralization of generation assets create new industry challenges. These challenges include integration, coordination, and maximizing return-on-investment (ROI) on distributed energy resources (DERs), while providing network reliability and flexibility.


GE's GridNode DER Management solution enables utilities and developers to easily integrate renewable energy resources.


The GridNode DER Management solution includes the control and automation functions to manage Active and Reactive Power, Power Factor, and Voltage at the point of interconnection for your Renewable Energy Resources.


Key Benefits
• Improve Reliability by exploiting renewable generation capabilities in order to provide optimal support to the grid.
• Ease of deployment by utilizing GE's configurable GridNode DER Management Solution
• Increased revenue through equitable dispatch across renewable generation assets and providing the capability to provide ancillary services to the grid such as Reactive Power support.
• Energy cost reduction through a solution that can efficiently manage, optimize and integrate low cost renewable onto your grid.
• Life extension by reducing the number of operations on distribution level voltage transformers and capacitor banks through the optimal and flexible dispatch of your renewable generation assets.


GridNode DER Management

DISPATCH MODES
• Voltage
• Reactive Power
• Active Power
• Power Factor


CONTROL CAPABILITIES
• Equitable Dispatch
• Ramp Rate Control
• Volt-Var Control
• Feeder Controls