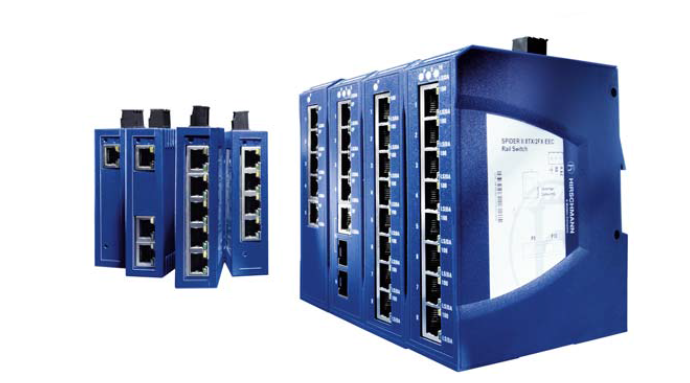 The classical industrial ethernet rail switches. Their compact design enables an economic start. These simple unmanaged switches offer plug & play functionality in the lower area of the network pyramid. The SPIDER family of switches provides users with an economical, yet highly reliable hardened Ethernet switch.


All copper/RJ45 ports are auto-negotiating and auto-crossing -- the SPIDERs will work with either patch or cross-over cables. The 100 Mbps fiber ports are available in multimode (MM) and singlemode (SM) with either SC or ST sockets (Gigabit fiber is via SFPs). All SPIDER switches are extremely compact and have LED indicators that provide information on power status, link status, and data rate.

The SPIDER range offers a wide variety of connectivity options in the entry-level market segment: 2 – 8 (+ 2) ports, optional fiber optic ports and extended temperature range on all versions. The first full Gigabit switches deliver high performance at entrylevel prices.
• Plug & play 10/100 Mbps Ethernet
• Auto-sensing, auto-crossing and auto-negotiation
• Expanded housing version for additional ports
• Simple, fast field installation (star and line topology)
• Excellent price/performance ratio (price per port)
• Extended temperature range: – 40° C up to + 70° C
• E1 approval from the German Federal Motor Vehicle Bureau (EEC types), 2005/83/EG Motor Vehicle Directive
• Simple rail mounting
• Industrial UL-approved circuit design
• Optical ports for SC or ST connectors and singleor multimode communications
• LED device and network status display


Applications
---
The SPIDER family is the ideal choice whenever you want to use a simple unmanaged switch to link ETHERNET nodes in a star or linear topology. You can also deploy SPIDER switches as a low-cost port expansion option on managed systems in large networks. Applications include process lines or machine manufacturing, for example printing machines. Fiber port versions support reliable data transfer over long distances and guarantee good communications under extreme conditions in the presence of strong electromagnetic interference. These robust switches are the solution of choice when the application demands high EMC stability and good temperature resistance. IP 30 protection and excellent shock, vibration and temperature resistance ensure that these industrial entry level switches will keep running in harsh environments.


Technical Information
---