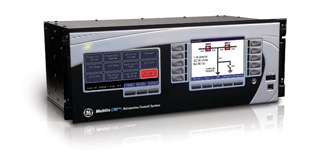 The C30 controller system is a programmable logic controller for performing substation or bay automation that can also be used for expanding the I/O capability of protection devices and replacing Sequence of Event (SOE) recorders. The C30 provides fast deterministic execution of programmable logic with I/O capabilities far above an average protection relay.


Application
Bay control and substation automation
Programmable logic control
UR I/O expansion
Sequence of Events (SOE) recorder replacement
Key Benefits
Powerful and deterministic programmable logic suitable for creating most customized automated substation control solutions
Modular hardware architecture allowing for flexibility in the I/O configuration to support most bay management applications
Three independent fiber or copper Ethernet ports for simultaneous/ dedicated network connections with advanced 1 microsecond time synchronization via LAN with IEEE® 1588 support
Reduced bay or station wiring through the use of high-speed peer-to-peer communication for sending and accepting control commands from other relays
Simplified system integration and access to information through the use of multiple communication options and protocols not found in industrial grade PLCs
Embedded IEC® 61850 protocol
Increase network availability by reducing failover time to zero through IEC 62439-3 "PRP" support
CyberSentry™ provides high-end cyber security aligned to industry standards and services (NERC® CIP, AAA, Radius, RBAC, Syslog)
Robust network security enabling Critical Infrastructure Protection through user command logging, and dual permission access control
Complete IEC 61850 Process Bus solution provides resource optimization and minimizes total P&C life cycle costs
The C30 is a complete solution for controlling and monitoring substation devices and can easily be connected directly into DCS or SCADA monitoring and control systems like Viewpoint Monitoring as shown.